When I went to the Middle East, I started by going to Egypt!  I'm actually really glad that I went to Egypt first because it was the hottest country, so Jordan and Israel were not as hot in comparison! I was really interested in seeing the Great Pyramids of Giza obviously, but I was also very interested in other Egypt excursions so I'd be able to see as many of the Egypt top attractions as I could!  I asked myself and my travel groups, "Is Egypt safe?" and decided it was, and off I went!  This isn't an explicit itinerary, as it's just suggested places to see, but here's an Egypt itinerary if you'd like more direction.
So, I made a list of fun things to do in Egypt besides the Pyramids, and I hope these make it on your list as well!  I clumped them in areas to better assist you.
1. Alexandria
Alexandria is the second largest city in Egypt, but it's often overlooked as one of the top Egypt tourist attractions since it's in the north.  It gets its name from its founder, Alexander the Great!  The location was chosen because it was supposed to be the link between Greece and the very profitable Nile River Delta.
Because of its location on the coast, there are, of course, some beaches!  That makes it a prime destination for tourism, especially since it's not as packed as some of the other Egypt excursions.
Beyond beaches, there are the Kom el shoqafa Catacombs which are considered to be one of the Middle Age's Seven Wonders, and there are numerous museums and palaces to see to keep you busy!
2. Lost City of Heracleion
The Lost City of Heracleion reminds me a lot of the opening scene of Tomb Raider when Lara Croft has to enter a sunken temple underwater. Heracleoin (Greek name…Yes, Hercules!) AKA Thonis (Egyptian Name) was a port city built on some islands that were about 1.5 miles off the shore of Alexandria.  It must have been impressive during its heyday since it was a canal city a la Venice and Amsterdam with bridges and waterways.
The city was mentioned a lot throughout history, although no one knew where it was (similar to the Lost City of Atlantis).  I think the most famous mention was that Helen of Troy and Paris tried to stay there together when fleeing Helen's husband.
Heracleion was only found in 2000 AD, hidden beneath 30 feet of water.  They've found the astounding carvings and statues of the ancient world, but also over 60 sunken ships and hundreds of anchors. The archaeologists said the city just slipped into the sea because the soil gave way, but they aren't sure if this was aided by an earthquake or tsunami.  
3. Tanis
Tanis was the capital of Lower Egypt and is also home to many royal tombs as it also replaced the Valley of Kings at some point.  Today, Tanis is mostly in ruins, although there are still some stunning sculptures. For this reason, since Tanis is lacking the 4 walls that many like to roam, Tanis might be just for people who are *super* into ruins.  Or, if you're excited by the next paragraph.
Since Tanis is in ruins, it was the perfect place to film Indiana Jones: Raiders of the Lost Ark.  It was the city the Nazis were excavating to help them find the Ark. Remember when Indy snuck in and said that the staff the Nazis were using was too short? He put the staff in and the light lit up where it was?  Good times.
Want a tour? –
This tour
will get you to Tanis and Suez Canal from Cairo.
4. Baron Empain Palace
There's a lot to visit during Cairo sightseeing (including the Coptic Christian area, let us not forget!), but probably the strangest is the Baron Empain Palace. What I love about it is that it looks almost Asian, although it was built by a Dutchman.  It also has a fun spiral staircase and lush green gardens reminiscent of a European manor.
But what makes it really unique… is the history.  The looks alone might be enough to make this worthy of a visit, but there have been some… shall we say… mysterious accidents?  The first was the tragic death of the owner's wife who fell to her death from one of the towers. If that's not sad enough, later the daughter was found dead in lower areas of the mansion (years later). Of course, these sad events have garnered stories of ghosts and other supernatural events.  
Check to see if it's open if you want to go into one of the spooky places to visit in Cairo.  The government was supposed to be renovating it to make it into something useful, but it isn't quite up to that yet.  You can at least get a peek at the outside which is just as interesting as you'd expect Asian architecture in Egypt to be.
5. Khan e Khalili
Beyond pharaonic Egypt and modern heights of Cairo, there lie the narrow lanes with the rich emblem of medieval Islamic culture, right at the heart of Egyptian Capital. Khan e Khalili market is the zenith of the medieval time. A trade center living for over a thousand years, Khan E Khalili is befitting to play a cultural experience along with the right dose of shopping. Locals, as well as tourists, visit the market en masse looking for the best deal on perfumes, clothes, and souvenirs. A brief stop at the hookah parlors and a few shots of strong Egyptians coffee will make you ready to venture into the deep of the open air markets of Khan e Khalili.

We visited the place twice. Even though many tours are organized to connect the language barrier between buyers and sellers, we managed with a smile and body language and came out winning most of the haggling! Most of the souvenirs are "Made in China" products (for original Alabaster souvenirs, do your research well).  Khan e Khalili merits a visit irrespective if you buy a thing or not. Its winding lanes open up another world where e-commerce sites will take ages to penetrate!

There is an upscale cafe where the famed Egyptian author (and Nobel laureate) Naguib Mahfouz used to frequent. Oberoi hotels have taken over the cafe and run it in style. I suggest reserving a table for dinner before you visit and do try the grilled chicken liver marinated with pomegranate juice.
Thanks to

Orange Wayfarer

for this glimpse into the market that I somehow missed!  View more of her work on her

Instagram!
6. Nilometer
It's easy to see where the Nilometer gets its name since it literally is its name. Nile meter… measure of the Nile.  The Ancient Egyptians used it to determine whether they could expect a drought, good conditions, or floods.  This was very important to the Egyptians since the Nile was their lifeblood and livelihood.
There were a few Nilometers located along the length of the river, but the most beautiful one still around today is in Cairo.  The stairs were carved in to allow the priests access to the different levels, so they can still be climbed today! It's an interesting visit since it the building that houses it is so modern even though the practice was ancient.
7. Pyramid of Djoser
The Pyramid of Djoser is in Saqqara and is almost 4,700 years old! It is believed that Imhotep (Ok, I know I've done a lot of movie references already, but he was the priest who became the Mummy in The Mummy!) was the one who designed it.  This pyramid is the oldest pyramid of its size, although it's a more of a step pyramid rather than the more straight sides of the Pyramids of Giza. Hence, why the Giza Pyramids are more famous, go figure.
However, Saqqara was an important site as it is believed the ancient Egyptians honed their skills and talents to better prepare themselves for the Pyramids of Giza. If you want to know more about it, scroll to the bottom of this article for the helpful links section–Optional Egypt Excursions!
Rather have a tour? –
Here's a tour
that will take you to the above and below places!
8. Memphis
Nope, not Memphis, Tennessee!  There is a Memphis, Egypt! Memphis was another former capital in Egypt because of its prime location on the Nile. However, since Alexandria (See number 1 in this list!) rose in power, Memphis started to decline which is probably why it's not on most people's lists for Egypr tourist attractions.
Nowadays, it's an open-air museum with lots to see.  If you're interested in more, scroll to the bottom of this article for the helpful links section–Optional Egypt Excursions!
9. City of the Dead
Going even farther South, you'll encounter the City of the Dead.  It's considered the world's largest cemetery, but it's really more of a necropolis than a cemetery you might be imagining (rolling green hills and white tombstones).  Instead of white tombstones, you'll see white domes undulating for miles. It's a vast space used by Muslims and Christians, which I think is a really special indication of how Egypt is so multi-religious.
The City of the Dead is definitely worth a stop, if able, but do remember where you are and be respectful since it is a place of rest for loved ones.
10. Valley of Whales
Wadi al-Hitan (Valley of Whales) is pretty crazy considering how far inland it is. It is a valley filled with fossils of numerous animals including whales.  If that wasn't weird enough, these whale fossils have… legs. Yes, legs! It appears these are the fossils of massive animals just before they made their final journey to the sea, where they stayed.  
There are tours that can take you out there, although it is quite a journey since it's in the desert.  The scenery alone might make it worth it though!
11. Siwa Oasis
Growing up, whenever I imagined a desert, I always also imagined a little desert oasis.  I've seen some when I went to the Sahara in Morocco and another time in Peru! But the Siwa Oasis is so large that it's been a settlement since 1000 BC and is currently home to 30,000 people!  
Today it's also home to some fun activities like Cleopatra's Bath which is a beautiful warm spring!  There's also a lodge built entirely of mud and salt which has no electricity. And then, of course, you can't miss the Sufi dancers and listen to the music!
12. Black Desert
There isn't much to do around Black Desert as it's completely uninhabited.  However, the desert views are something! As the name suggests, rising out of the Sahara sands you've come to know are black cones of volcanic deposits like dolerite.  Some of the dunes are quite tall, and you can climb them! Then, continue on your journey to the next colored desert, the…
13. White Desert
One of the coolest and most fun things to do in Egypt is The White Desert.  Located around 4 hours (driving) from Cairo, the unique white limestone formations have been shaped by thousands of years of erosion and wind.
It's easy to find fun shapes such as the "chicken and the tree" and the "mushroom," but the real joy is camping in the desert overnight. It's a fascinating world away from Cairo thanks to the Bedouin guides, the spectacular landscape, and beauty of the desert night sky.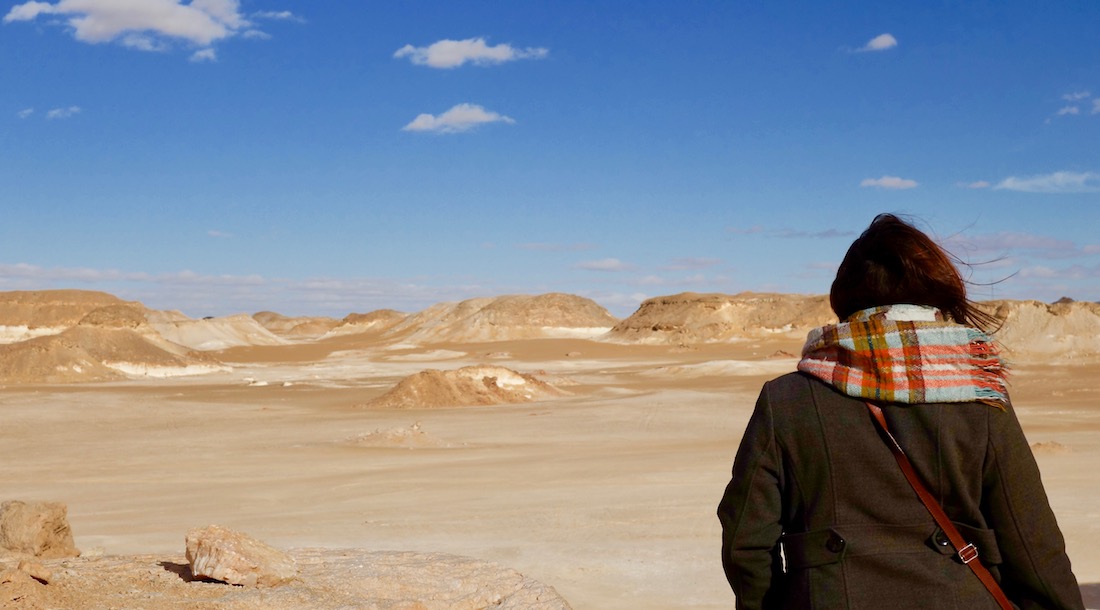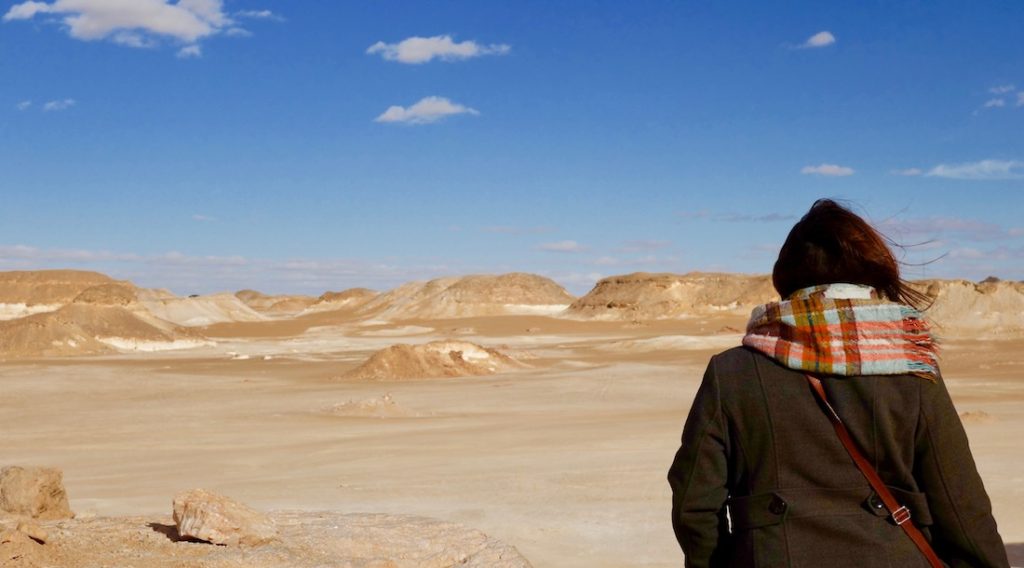 Thanks to Sally from Passports and Plates for this exciting look into the White Desert!  If you're interested in learning more about

camping in the White Desert,

please visit her site!
Need a tour? –
This tour
will take you to both the Black and White Deserts and some oases!
14. Blue Desert
Lots of colorful deserts in Egypt, huh?!  While the Black and White deserts are natural, the Blue Desert located in the Sinai Peninsula is actually a man-made work of art.  The Sinai Peninsula is located between Cairo and Israel and was, therefore, an area of battles when Israel and Egypt were at war. So after the peace treaty was signed, the Blue Desert was created by painting large rocks the bold blue color of peace.  It's very close to what's next up on the list, so hopefully, you can do both!

15. St. Catherine's Monastery
St. Catherine's is notable for being a remarkably well-preserved monastery at the base of Mt. Sinai. Mt. Sinai is presumed to be *the* Mt. Sinai of Biblical fame which is also why there is a chapel built around a bush presumed to be the burning bush that Moses encountered. There is a bush in the monastery today, but no way to know if it's the original bush.  
Beyond bushes, St. Catherine also houses the bones of monks who were banished there. Apparently, they put the Sin in Sinai and were sent to St. Catherine's as a punishment.  There are now just piles of bones of both "good and bad" monks since the desert is pretty unforgiving when it comes to the ability to bury.
The monastery itself is a famed tourist spot since it is the oldest working monastery in the world and also the world's oldest continuously operating library!  
16. Dahab
Regardless of the beauty that reigns in Dahab, it is still one of the lesser-known places to visit in Egypt compared to places like Sharm el Sheikh and Hurghada. Just 9 hours away from Cairo city by bus and 1-hour flight to the nearest airport of Sharm el sheikh, Dahab is perfectly located on the southeast coast of Egypt, at the shores of the Red Sea and neighbored by Sinai Mountains. The tranquillity and serenity that Dahab provides have made it a perfect vacation place for tourists that just want to relax and enjoy the cool breeze of the sea.
Dahab is most famous for the Blue Hole which is next up on the list!
As it is a small, growing town, not packed with many tourists, there are so many things to do in Dahab from Diving, snorkeling at the blue hole, snorkeling at the blue lagoon, horseback riding, quad biking in the mountains or just spending a day at the beach — a visit to Dahab will be very much fulfilling.  Dahab is very close to the previous two places, so you can take a tour for a sunrise tour of Mt. Sinai and go to St. Catherine's monastery!
Thanks to Esther of The Adventurous Feet!  Check out more of her photography on

her Instagram!
17. Red Sea Blue Hole
I did a lot of research about the Blue Hole near Dahab since I am a diver.  Blue Holes are when there's a sinkhole and certain areas are much deeper than the surrounding areas, and it creates an image of a blue circle from above.
The Red Sea Blue Hole is famous for being the world's deadliest dive site because of the deaths (some records say over 300!) As with most potentially dangerous situations, the people who died went against normal safety protocols and sadly paid for it with their life.  
People swim in and around the hole daily, so these deaths have not deterred other people.  If you're worried about this site, remember, the deaths only occur when they don't follow the normal dive pattern, and try and find "The Arch" which is way too deep for most recreational divers. The saddest story is of a diver who went down with his camera and it films his uncontrolled descent and his inability to rise again safely.  Scary stuff. Follow the guidelines of your dive guides if you choose to dive here! You'll be fine for just swimming.
18. Hurghada
Speaking of diving, I went in Hurghada!  Hurghada is a city on the Red Sea (Other cities great for diving are Sharm al Sheikh and Dahab) that started as a small fishing village and has evolved into a resort town!
Hurghada is famed for its beautiful beaches and stunning water.  When looking into tours and Egypt excursions, I hope you add this to your list!  It was at the tail end of my tour, and it was relaxing and lovely.  I know a few Egypt tours that don't include the Red Sea, but it's really a must.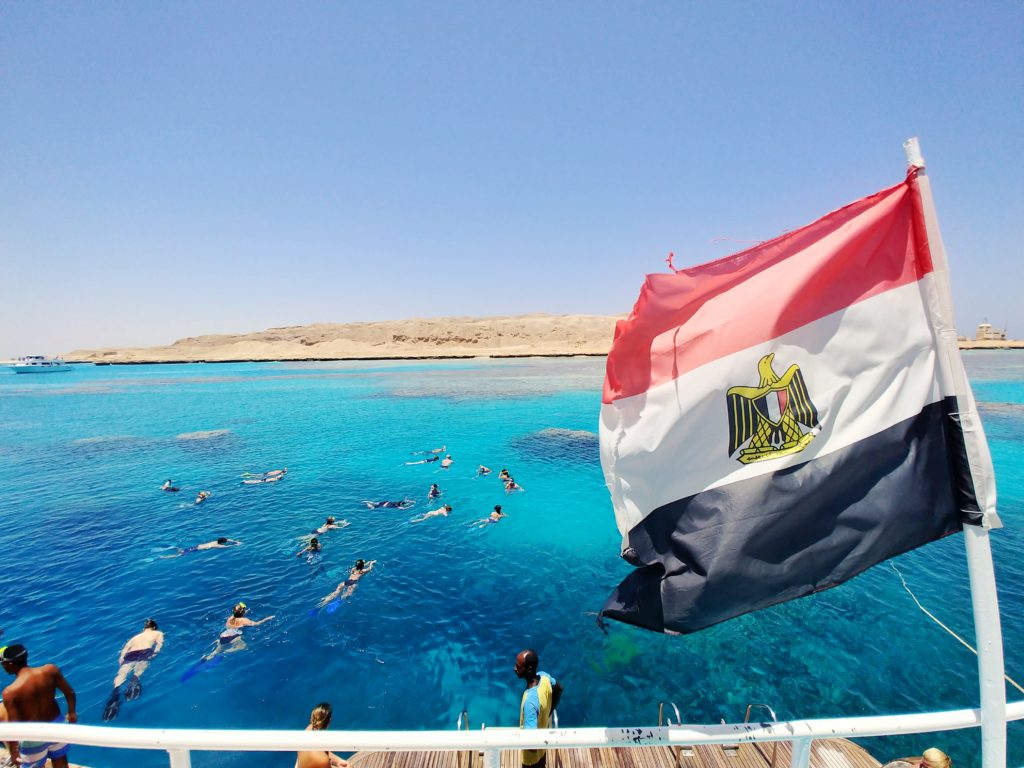 19. Desert Breath
Gosh, another desert thing? To be fair, this is Egypt, and they have a lot of desert!  This is similar to the Blue Desert in that it is a work of art. I like it because it looks like crop circles, and it reminds me a lot of my Nazca Lines flight.  It also reminds me of giant Ant Lion cones sinking into the desert (I used to have them under my house growing up, and I saw some again in Israel!)
I'm actually baffled it has survived so long!  The wind has eroded it, but it has been up for over a decade!
20. Hathor Temple
Hathor Temple is most known for having a "light bulb" carved into the walls.  People like to think that's how advanced the Egyptians were is that they had light bulbs. Some people say aliens though.  
Regardless of whether or not you believe in aliens, the temple is still amazing to see because of how well-preserved it is! Colors and all!  My favorite temples were the ones with colors still showing!
21. Luxor
There are a lot of great sites to see in and around Luxor in Egypt. But there are some sites that are far more popular than others. It's difficult to visit the Valley of the Kings or Karnak, for example, without running into lots of other people and tour groups. So if you want to visit a temple in Luxor without the crowds, you need to go slightly off the "regular" tourist trail.

One extra temple worth visiting is Medinet Habu, a temple I'd never heard of before going to Egypt. It's located on Luxor's West Bank, and is the Mortuary Temple of Ramesses III. It's large and detailed with similar features to the more popular temples in Luxor – except that it was virtually empty when I visited.


And what makes Habu Temple notable? It's known for its well-preserved and detailed carvings, as well as original paint that's still visible on many of its columns, especially in the peristyle hall. I couldn't believe how vibrant the blues and greens still are, even after thousands of years.
Thanks to Amanda from

A Dangerous Business

(Yes, that is a LotR reference!)  for her perspective into Luxor!
22. Valley of the Kings
More like Valley of How is it so Hot Here…but for whatever reason, it was a great place to create tombs for Pharaohs because of the rock composition's ability to help preserve the mummies.  While the tombs are currently well-marked (at least the found ones!), they didn't used to be! The entrances to the tombs were kept secret, which is why so many are probably still hidden today!
When considering traveling to Egypt, most people only think about the Pyramids of Giza and the Valley of the Kings.
To get to the valley, there is a little train that brings you from the entrance closer up to the tombs.  The entrance ticket gets you into most of the tombs, although some require extra. Check out my Egypt Budget if you want to see more prices.
I think it's worth it to grab the extra tickets to see King Tut's tomb and King Seti because you paid that much to get to Egypt, why would you not want to see as much as you can while you're there?
Just outside the main valley is Queen Hatchepsut's temple!  I don't think that it had as much to see inside, but is impressive from afar! It also has a little cafe at the base for cool water on those hot days!
You can also take a hot air balloon ride over the valley at sunrise which is well worth the money!
23. Colossi of Memnon
These fine fellows used to be twins, although they hardly look the same anymore. They used to guard a temple that has since been destroyed by earthquakes but now stand solemnly alone in what amounts to basically a field.  
They're also famous for singing!  Yes, singing! Because of the gaps created after cracking and shifting from an earthquake, around dawn almost every day, the statues would sing (scientists believed it was because of trapped dew evaporating). Someone tried to fix the statues, and now they no longer sing. But they are still really cool to look at, and they are massive!
This is a nice stop coming back from the Valley of Kings!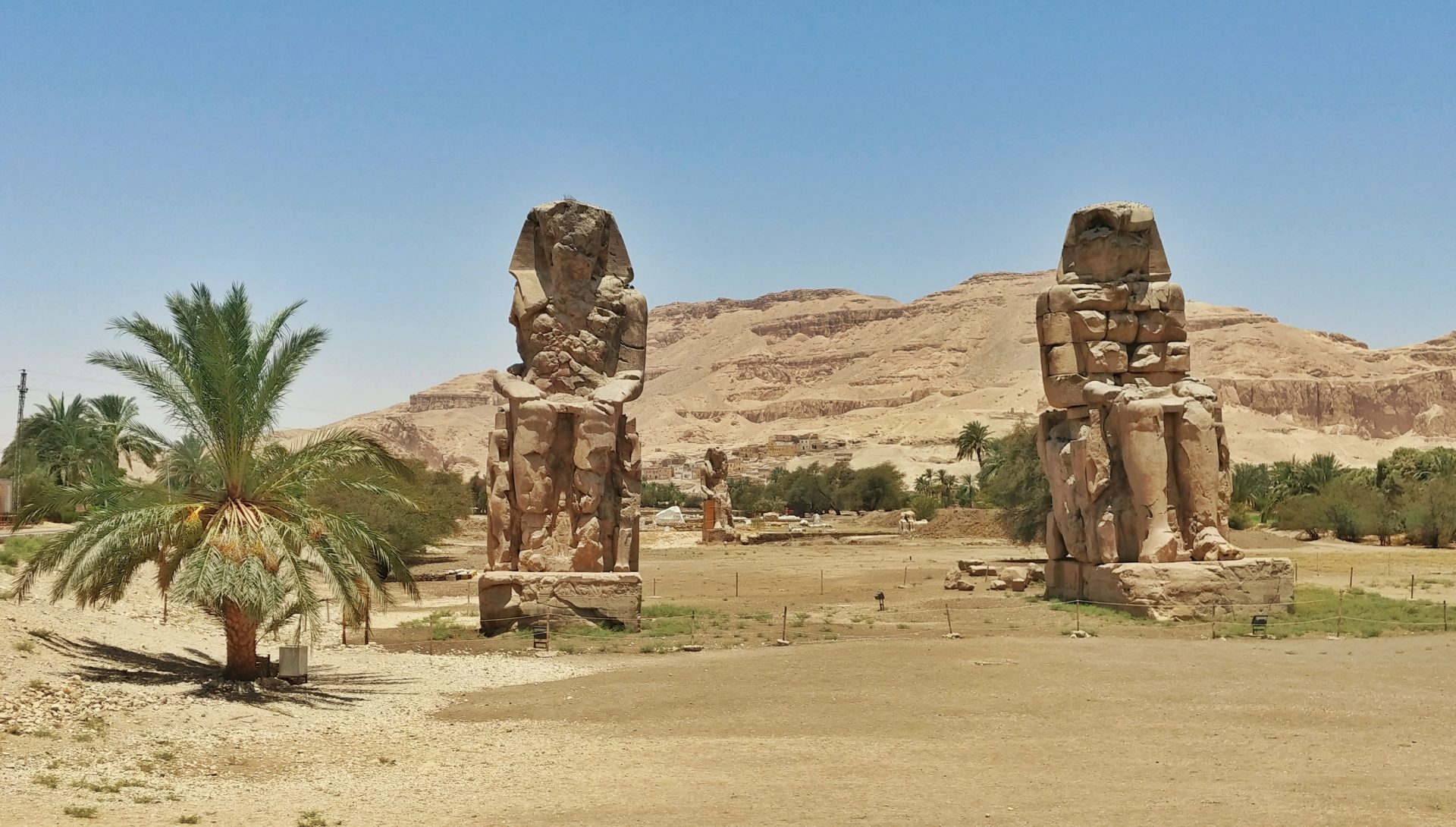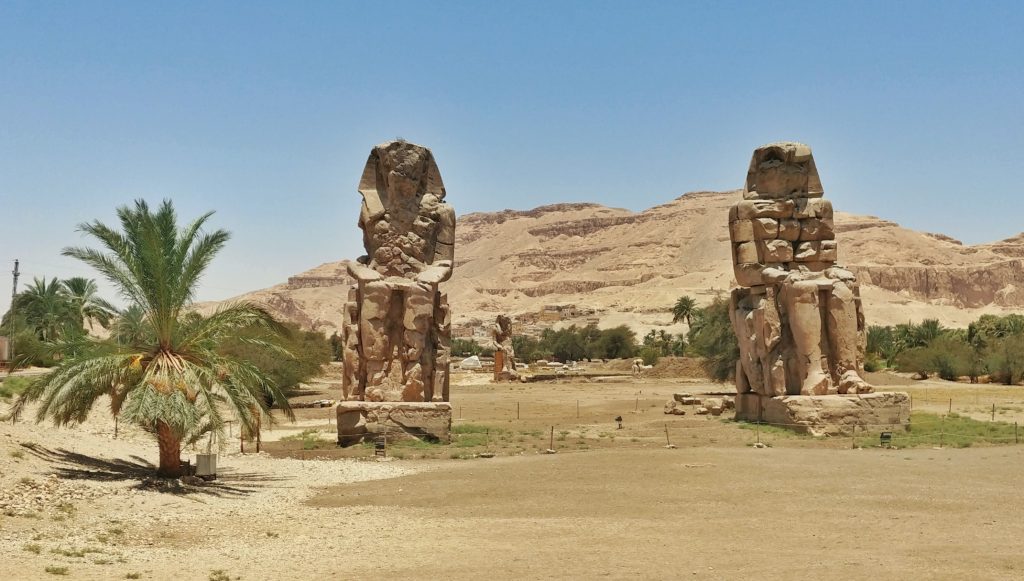 24. Karnak
Bring a lot of water with you because this place is massive.  It has a row of columns (over 130!) that are both wide and tall, and they go for what almost seems like forever.  On every single column are depictions of the gods and pharaohs with stories in hieroglyphics.
It's easy to get lost in this city of columns, but if you keep going, you'll find an obelisk that would have towered over you if it still stood.  And right by that is a scarab beetle that if you walk around it a certain amount of times, you'll get good luck! For general good luck, 3 times. For an impossible wish (curing of disease, for example), it's 7 times.  And for a beautiful spouse (possibly even Egyptian!), it's 21 times! My whole group and I ran around 21 times! I'll update you later if it ever works for me!
Karnak used to be connected to the Luxor temple by an avenue of Sphinxes.  You can still see them, although it's closed off now.
25. Temple of Horus (Edfu Temple)
This is actually one of the smaller temples, but I really enjoyed it.  I thought the main pylon at the front of the temple was really well preserved, as were the statues of Horus scattered throughout.  When you're walking around, be sure to look up to see the soot of long-forgotten fires on the roof.
This is the largest temple dedicated to Horus, and it's important because once a year, Hathor would come down from her temple to meet up with Horus to renew their sacred marriage.  And they say romance is dead!
Keep an eye out for another Nilometer!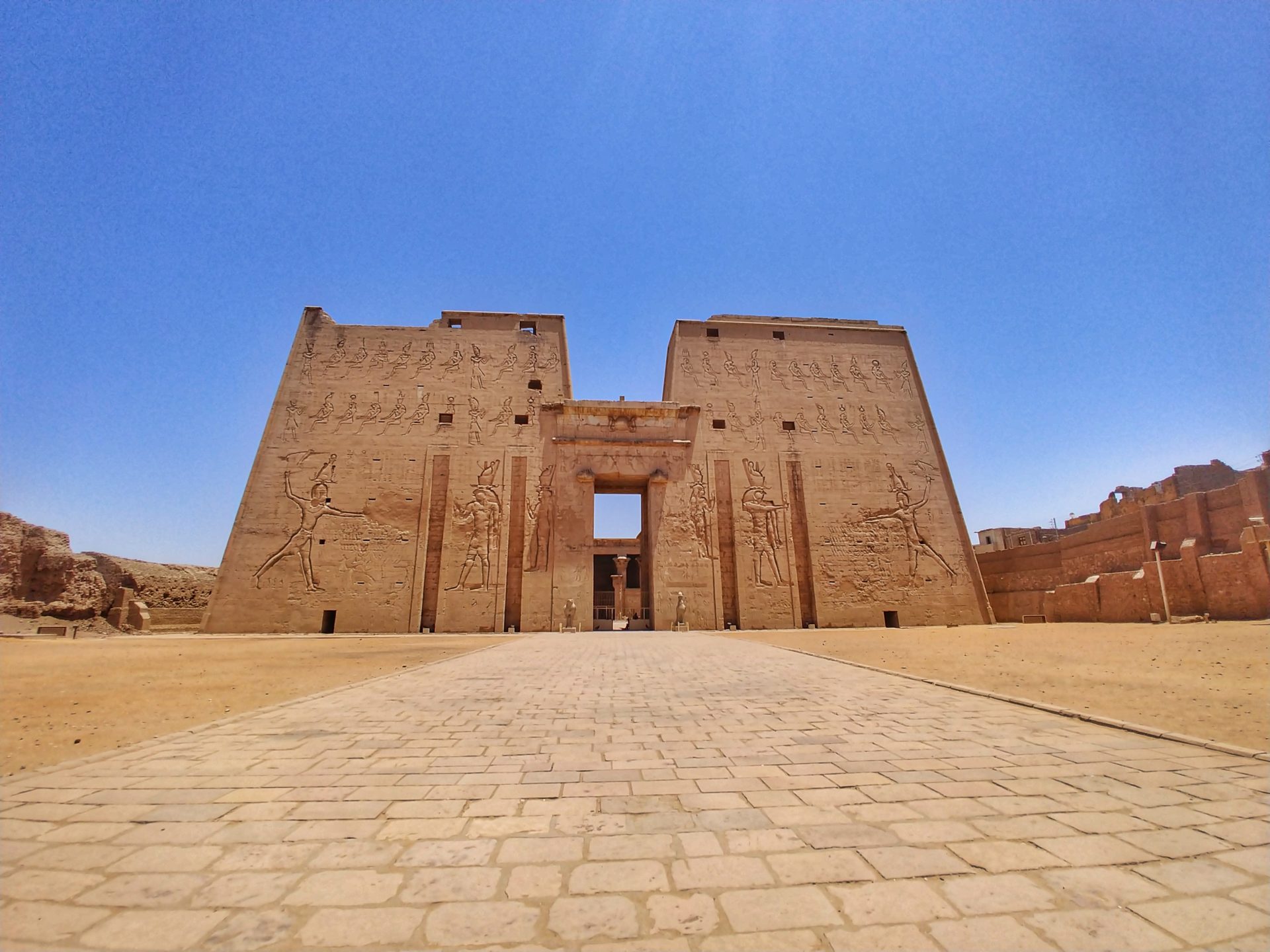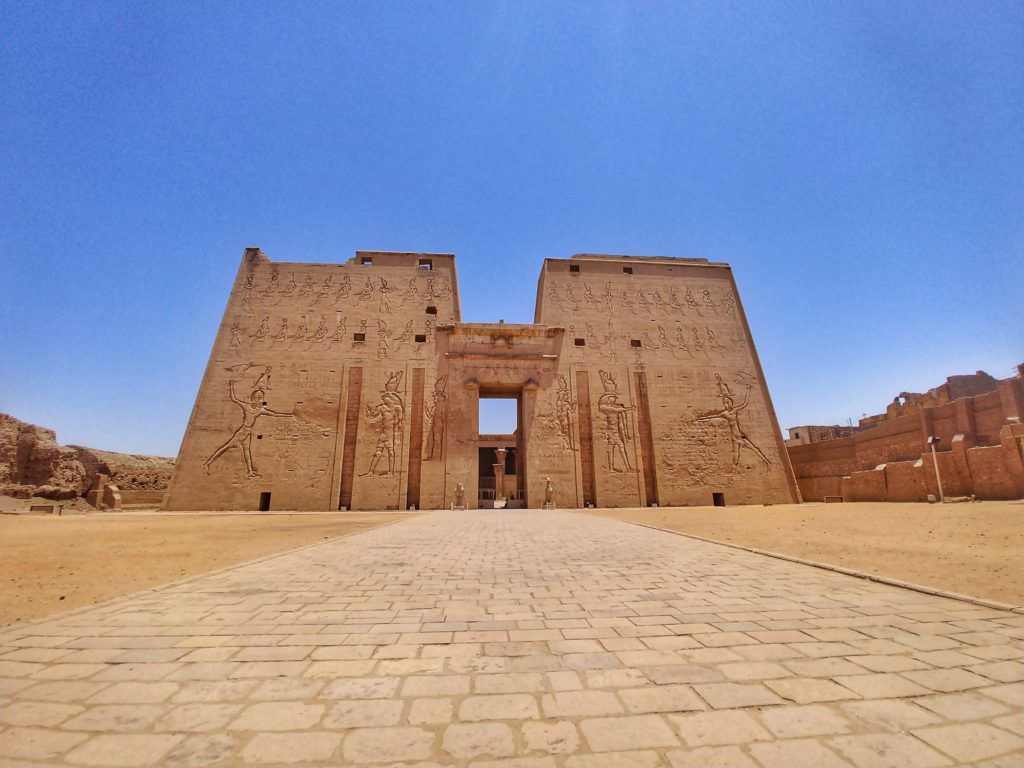 26. Kom Ombo
Kom Ombo is a temple dedicated to both Sobek (the crocodile god) and the other side to Horus (falcon god).  I thought it was particularly fascinating here because you could still see a lot of the ORIGINAL colors that were painted on, and there are carvings of surgical instruments on the walls!  
Growing up, I'd always just imagined the pyramids and temples to be the sandy color that they are today, but they were colorful! As if their size weren't enough, they must have been truly magnificent to behold in their heyday.
It's not nearly as well preserved as Edfu Temple, and also has some purposeful defacement, but it's still worth a visit.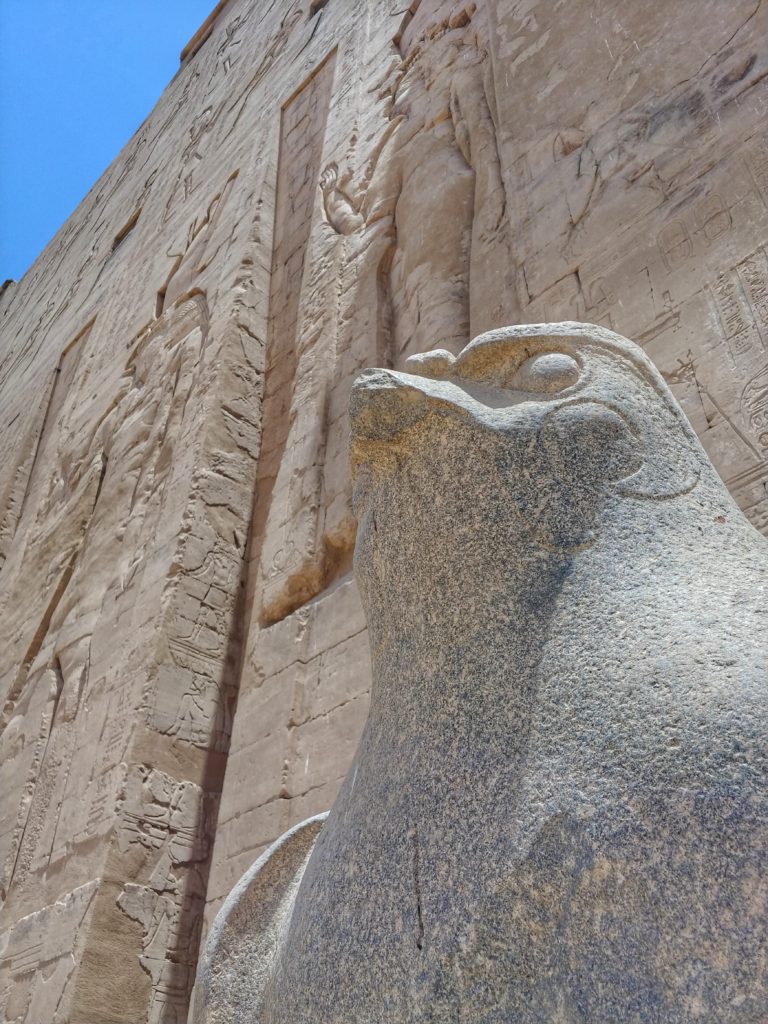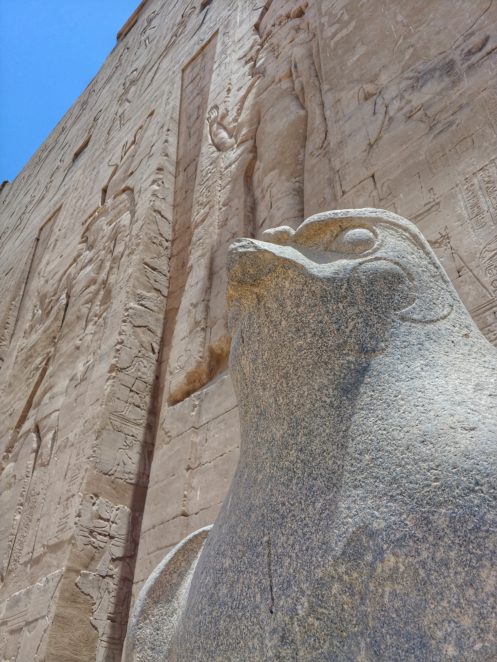 27. Monastery of St. Simon
If you want to check out the largest Christian Church in the Middle East, you might need to hire a driver.  It's not really on the main tourism circuits. It was carved from an already formed cave and now seats 20,000 people!  It's an architectural wonder, to be sure, even though it's not as old as the Ancient Egyptian sites.
28. Temple of Philae
This temple dedicated to Isis was fun to get to because you needed a boat!  It also had lots of cats running around, so it was fun to pet them. It's said to be the burial place of Osiris and is held in reverence by all, including animals! Some say birds don't fly overhead and fish don't approach! Obviously, the cats didn't get the memo.
There's also a nice little cafe on the island for bathrooms, food, and drink which is a special comfort if you go during the heat of high summer as I did!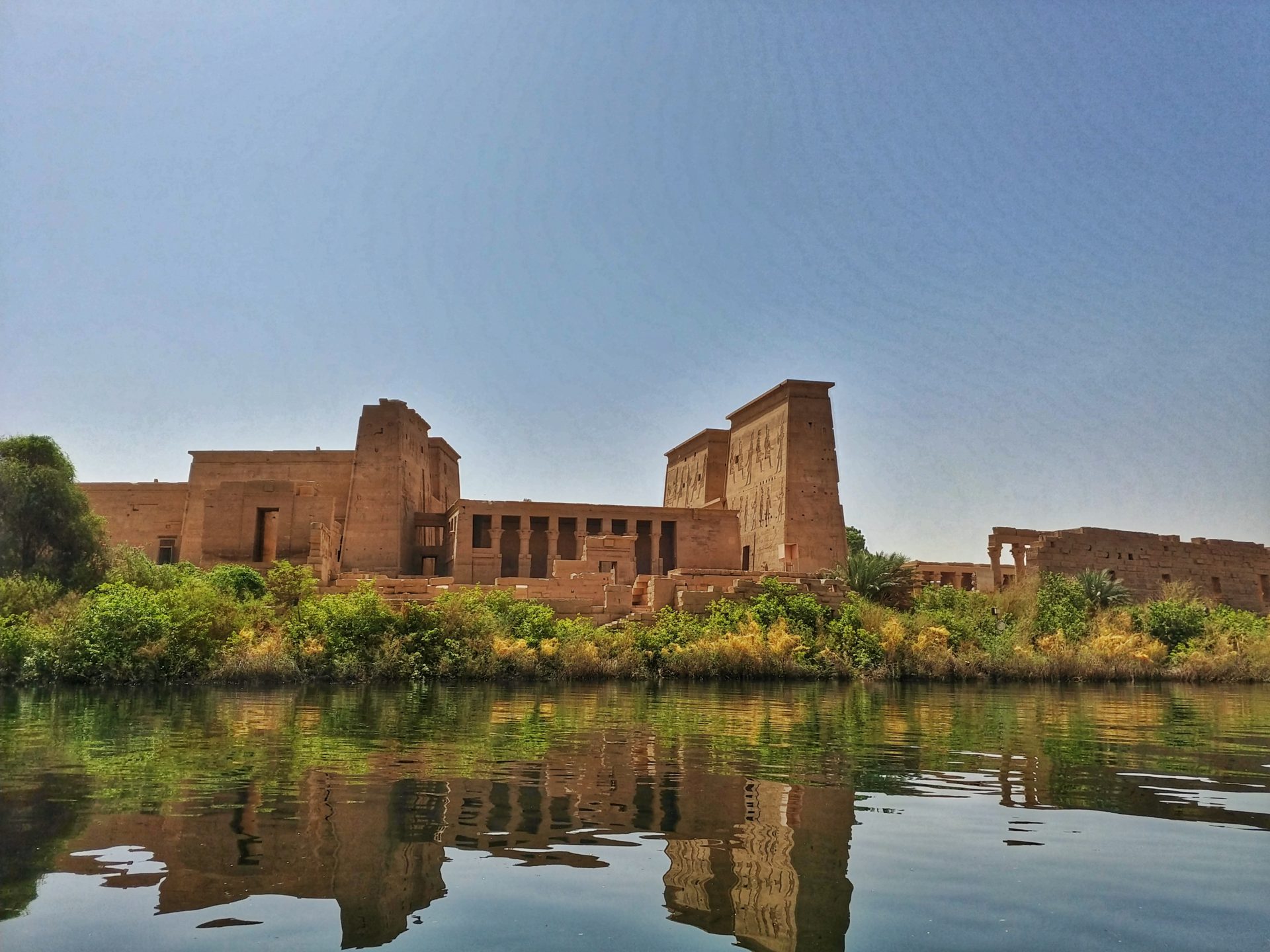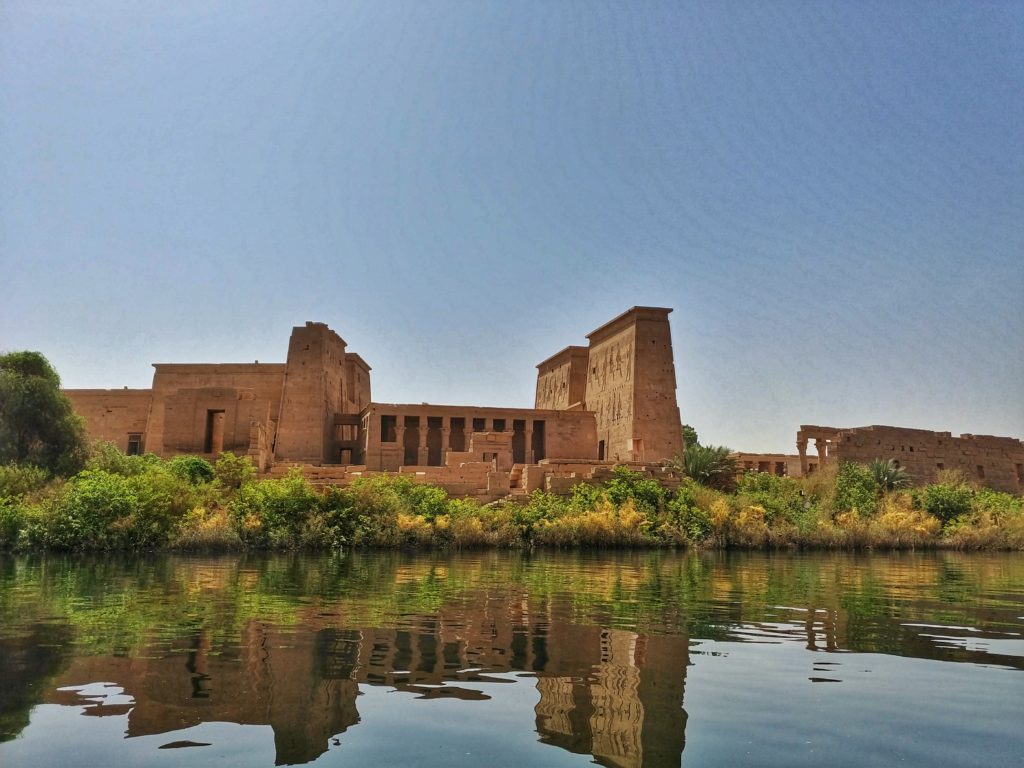 29. Abu Simbel
Abu Simbel is just hands down not to be missed.  It was built by the infamous Rameses II (the "Bible Rameses") as a monument to himself and his wife, Nefertari.

This might be unbelievable, but the whole complex of Abu Simbel was actually moved!  When Lake Nasser was created because of the dam, the Abu Simbel temples and statues were in danger of being flooded. So there was a huge project to move the entire complex that Spain helped with too (They even moved an Egyptian Temple from Egypt to Spain!). You can still see some of the dissection lines in the rock, and it's truly a wonder that all the pieces were put together again so well!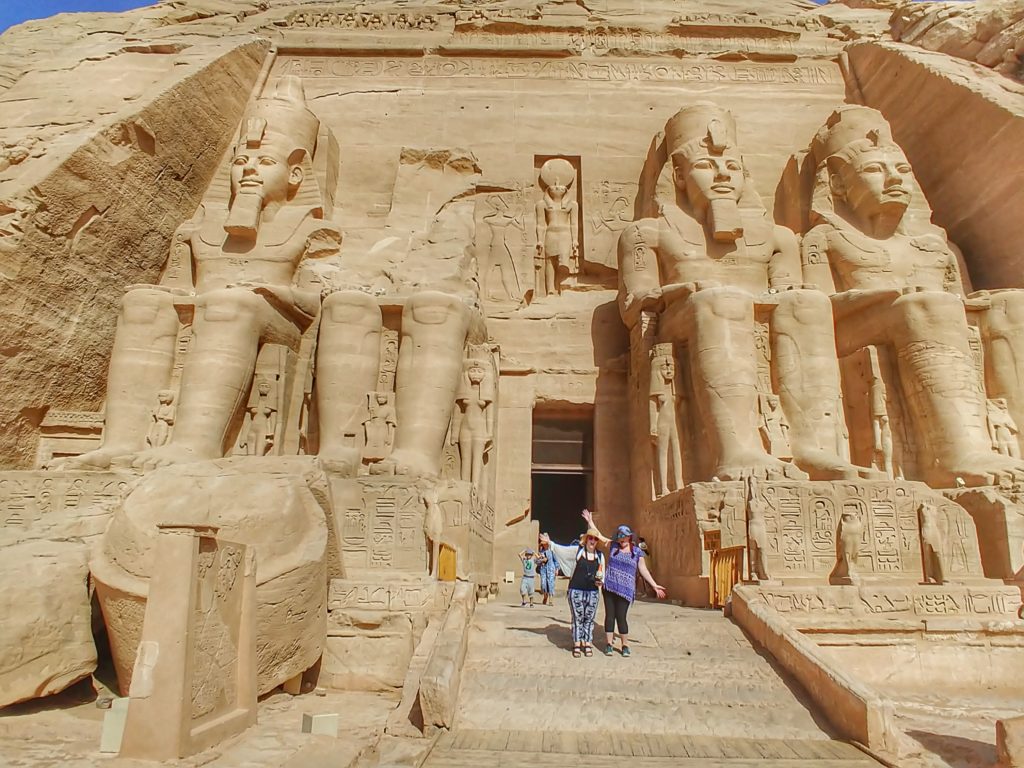 Four giant Rameses guard the entrance to the main temple, and they still hold a remarkable amount of detail, even today.

However, the most incredible detail is hardly ever visible. On two specific days a year (his birthday and his coronation day), the sun is perfectly aligned to light up the back chamber to cast light upon Pharaoh's face once again. That might be a little extra, but wow, that took some planning!